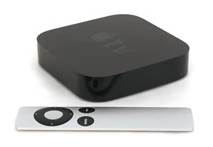 There have been a lot of rumours in the last number of months about Apple's plans for the AppleTV. There is so much that could be done on this front. Consumers, as they have become more AppleTV worldly, are ready for a beefed up AppleTV. If anyone can do it, it's Apple. They changed the music business and the model for the delivery of content. Artists didn't go to the bank with zero's on their pay checks. Just the contrary.
Apple needs to do something significant in 2014 rather than just building out product that Steve Jobs invented. It is all fantastic stuff but Tim Cook has been riding on Steve Job's coattails now for over two years.
People now understand the streaming model. Netflix has ensured that. However, iTunes ensures you have the most current content available after release to the theatres.
We're flush in bandwidth. Apple can capitalize on this. What they did with music they can do with TV and movies. They already have the AppleTV and have had it for years. People love it. It's so simple to use. As Steve Jobs said "It just works."
For more on this story go to "Apple is reportedly building out a content delivery network, hinting at deeper TV plans."