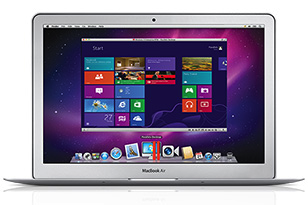 Microsoft is retiring the Windows XP. At the same time they would like organizations to migrate to Windows 8. XP was Microsoft's most popular OS of all time. Organizations are cost conscious and conservative. The problem in the above scenario is many organizations are happy with XP yet, it is being taken away and Windows 8 is so different it would cost a fortune for deployment.  
As such, the above is going to be very difficult in coming. If organizations are going to be pushed off of XP and Windows 8 is just so radically different, their view is let's just consider alternatives like Chromebook, iPad, Mac and on it goes. No longer do these alternatives seem scary as Windows 8 looks scary.
Finally, there's been a major trend towards BYOD or Bring your own Device. Employees are being allowed much more latitude by employers now as for them it is cost effective. If employees are being allowed to bring their own device that device might be an iPad or a Mac. For the employer, if it is a Mac, yes it is different but so too is Windows 8 – radically. Most employers also know the Mac can run Windows if it came down to it but it won't.